07/30: Exclusive Coverage: Carl Pavano and Phil Hughes Pitch Well in Rehab Appearances with Charleston RiverDogs
My friend Jared W. Smith attended tonight's game between the Yankees' Single-A affiliate, the Charleston RiverDogs, and the Asheville Tourists, an affiliate of the Colorado Rockies. The game was noteworthy for marking rehab appearances by both Carl Pavano and Phil Hughes. Jared agreed to write an exclusive guest post to YanksBlog.com, sharing some pictures and detailing what he saw.
Philip Hughes and Carl Pavano each made rehabilitation appearances for the low-A Charleston RiverDogs in their 4-2 win against the Asheville Tourists Tuesday night at Joseph P. Riley Park in Charleston, SC. The rehab assignments were the first for the South Atlantic League team as a member of the Yankees' farm system.
The much-maligned Pavano, who has been under constant fire for his lengthy stays on the disabled list spanning a majority of his four-year, $39.95 million dollar contract, is working his way back from Tommy John surgery. Pavano got the start for the RiverDogs and threw two shutout innings, giving up one walk and one hit while striking out four. His velocity was down - his fastball touched 90 about three times with his typical fastball coming in at 86 to 88 - but it was enough against the Tourists' hitters. Pavano gradually mixed in some breaking and off-speed pitches, and was effective with them, striking out the side in the second. Despite the drop in velocity, Pavano was sharp and had good command of most of his pitches, which should be incredibly encouraging considering the layoff.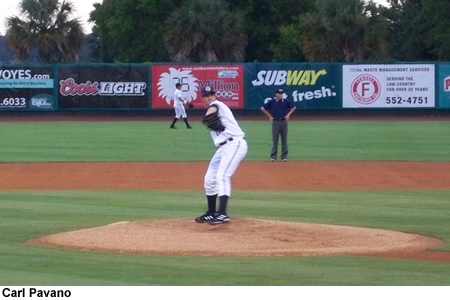 Philip Hughes came on in the 3rd inning, also starting primarily with fastballs and sinkers. He hit 93 consistently on the stadium's gun through the third, working around a hit to retire the side with two ground ball outs and a flyout. In the 4th inning, Hughes began to throw his breaking pitches, which were a bit rusty at first, as he walked the leadoff man. Hughes found a groove with the next batter and got a double play ball to end that threat. In the fifth, he struck out one and got another ground ball out before surrendering a triple to Tourists catcher Lars Davis; Hughes was able to induce the next batter to fly out, ending that threat and his evening. Hughes threw three shutout innings, scattering two hits and walking one, with one strikeout. It was an efficient outing for Hughes; so efficient, in fact, he had to pitch the fifth inning because he did not reach his prescribed pitch count (roughly around 25-30) in the third and fourth.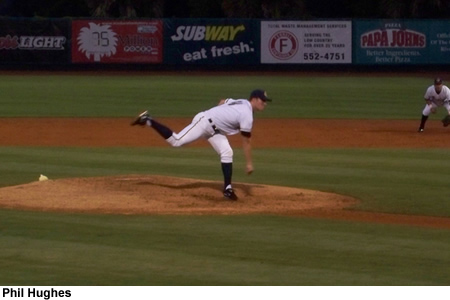 The game was delayed by a half hour to a 7:30 start as showers and thunderstorms lingered around Charleston for much of the afternoon, as if Carl Pavano needed another impediment to getting back on a mound! Luckily for Pavano and the RiverDogs, the weather abated itself by the first pitch. Rain resumed in the fifth inning, sending fans (including yours truly!) scurrying to more covered locations, but that also abated and the game went on to a full nine innings.
The appearances are encouraging, though it's still too early to tell when they'll be back to the Yankee rotation. A healthy Hughes and perhaps even Pavano could only help the Yankee pitching staff as it bears down for what promises to be an intense dash to the AL East pennant.